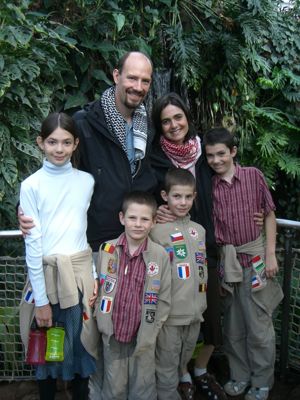 The Miller family in Stuttgart, Germany
Over the Mardi Gras holiday I had the great fortune to meet the Miller family. Jennifer is a gifted writer and has an article that recently went up that explains why they chose to
live nomadically
. When reading this it reminded me why I chose to pursue a degree at an
online university
and in
Internet Marketing
.
I think it all started when I discovered
Tim Ferris
and his smash hit
The 4-Hour Workweek: Escape 9-5, Live Anywhere, and Join the New Rich
. Later I read
X Marks the Spot (1st edition)
and I knew that this was something I needed to do.
I have always liked to travel. As a kid I went on road trips with my grandparents. Later in college I went to Canada twice and even spent 6 weeks camping at a dinosaur excavation site near Newcastle, WY. My wife grew up involved in Girl Scouts and camping. She spent 2 weeks in high school canoeing the
Boundary Waters
. She told me that she thinks it would be cool to do what the Millers do but she doesn't think she could do it.
Here is a link to their blog post
New Orleans – Crawfish and Mardi Gras
which has a video of some of their adventures here.
Isn't it interesting how we give up on our dreams and passions to pursue what "society" thinks we should do. Send our kids to schools that teach in a model that no longer works. We work in jobs that we hate, to buy stuff we don't need, to impress people we don't like. Why? So we can fit in. So we can live the same boring existence that everyone else does.
There are families all across America that would love to do what the Millers do. I think the number one thing that keeps them from doing it
is embarrassment
. What would their friends think? What would their relatives think? People would think they were crazy. Well, while they were worrying about the rest of the world the Millers are showing their kids the world and giving them experiences they will remember for the rest of their lives.
Disclosure: Some of the links here to products contain affiliate links and I might actually make a little money if you click on them and buy something.